By Iain Chambers,
Director of Brighton Food Factory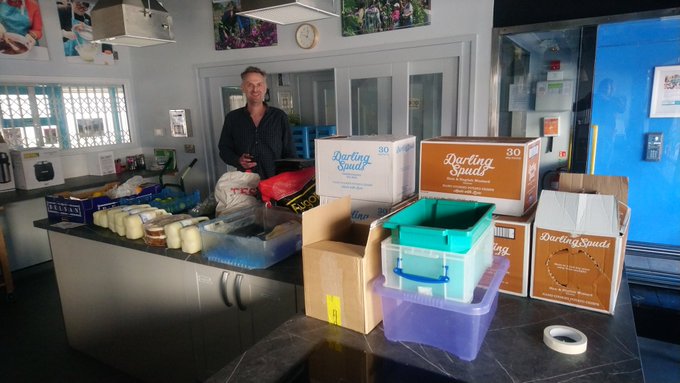 I'm sure there will be millions of stories from all over the world of how people responded to the coronavirus pandemic. Here's how it looks for me. It's Saturday 4th April, so maybe by Tuesday 7th April it will all look different through the Covid-19 kaleidoscope. But even if it does I have trust in the people and communities that I am working with that we will still cope and get through this.
There are loads of examples up and down the UK of communities and their organisations Travelling at the Speed of Trust, which I will get to later, but I will start with this one:
It started with a late afternoon meeting on 18th March in a big room in Moulsecoomb Leisure Centre, on the outskirts of Brighton, of a group of well spaced out (physically not psychoactively), community-focussed people from across Moulsecoomb and Bevendean: school heads from Moulsecoomb Primary and Brighton Aldridge Community Academy (BACA), food bank organisers, community development workers from Trust for Developing Communities (TDC), church leaders, others I may have forgotten (sorry if so), all chaired by Warren Carter from the Bevy Pub and Moulsecoomb Forest Garden. We all agreed to work together in this looming crisis, pledging facilities and people, and with a primary focus on the greatest need. This was days before furloughing was announced and any new funding programmes were put in place (we are still waiting for some of those!). In the case of The Bevy, the management committee had decided the previous evening to close the pub immediately, four days before the government instructed all pubs to close. The Bevy team wanted to focus on getting food to the community's most vulnerable people, and lose no time in doing so.
Amongst many actions proposed and actually begun in that meeting was a collaboration between BACA and the Bevy to make meals in the school's training kitchen. Within a week that collaboration led by BACA's year head, food technology lead and experienced restaurant chef Ricky Hodgson – by accessing surplus food ingredients from Fareshare Sussex via the Bevy, sourcing fresh produce through Brighton Food Factory, recruiting a community chef trusted by all parties to work on Ricky's team, and using BACA's and Brighton Food Factory's existing stock of disposable trays and containers – had cooked, chilled then frozen over 800 meals and pies. Again let me emphasise – this was a verbal agreement, starting with a simple offer from BACA's head Bob Speight: " We want to help, let's talk first thing tomorrow". And talk we did and we started with what to do and what to make, with no preliminary discussions of who picks up which costs, who gets paid for what, who will receive the food and at what price, if any. We are working through that together now, but the food is ready to distribute, more is being made every day, and we are ready to show others how we did it. But we got straight on with it because we had worked together in the past, with Ricky bringing his students to The Bevy to cook, or me helping when BACA ran hundreds of practice job or college interviews. Families will be fed this week and all through this crisis because we have Travelled at the Speed of Trust.
That is the core of what I wanted to say. I'll say more below with examples of fast moving, trust based action led by communities and not for profit organisations. But if that's enough for you, please help out by volunteering in your community or for a not for profit community organisation near you, or check the links below and make a donation. We may all be not-for-profit but let me tell you we all need some money just now to keep these shows on the road in an entirely unpredictable environment.
I have two jobs. I am the Community Projects Manager of The Bevy Pub, a community owned pub in Moulsecoomb and Bevendean, two large housing estates on the outskirts of Brighton, home to more than 18,000 people. I do this job on a part time basis, my time being paid for on an "as much as the pub can afford" basis. I trust my Bevy management committee colleagues, volunteers all, to recompense me fairly because, while The Bevy struggles to survive financially even at the best of times, it has a deep surplus of trust. I hope what I do for the pub is useful. It certainly seems necessary given all the pub sets out to do for its community, but it's very hard to prove using the traditional measures like increased pub income or numbers of people impacted (a word that we use in our sector to measure what good we are doing through our social enterprises, and also a word used in other circumstances to describe car crashes and blocked bowels).
I am currently furloughed from my job. That's ok for me as I have plenty of work to do for my own social enterprise, and The Bevy Pub is already a volunteer led organisation and has an existing network of volunteers to support its repurposing as a super safe kitchen for hot meals on wheels for the vulnerable. The Bevy is also trusted by its community to try to answer people's needs, as we've been a community hub disguised as a pub since day one. Never has our tagline More Than A Pub ever felt more appropriate than in the last few weeks. To be honest, at The Bevy we are kind of used to operating quite close to crisis mode. It's hard to do all that we do, pay the Brighton Living Wage to staff, and stay afloat in a community where many struggle just to get by let alone buy themselves the odd pint or £4 community lunch. Other social enterprises and charities are finding it's a huge challenge in this crisis to keep delivering their still much needed help and services while faced with a very different funding climate (no charity shops bringing in income, usual donations heading elsewhere, volunteers self isolating or ill). Many of those organisations face a choice: furlough all or most staff, mothball everything to survive financially as an organisation and hope the people who depended on your services can cope, or to continue the mission to meet community needs but in the knowledge that bankruptcy is a strong possibility? It's a question that charities and social enterprises shouldn't be having to ask themselves. Hopefully the government will fix that as soon as possible.
My other job is director of the Brighton Food Factory Ltd (BFF). I set it up on 2nd January 2020 as a not for profit company to address food inequality in my home city of Brighton and Hove (sorry Hove about the name but BaHFF sounds a bit too close to 'barf' for a food focused organisation). My job is currently unpaid, but as I'm furloughed from the Bevy I don't need to be just yet. When it became obvious that Covid-19 was about to massively disrupt an already broken global and local food system, I asked my friend Muir Jankowski for help and in just a few days we (and by 'we' I mean 'she') turned Brighton Food Factory into a brand new wholesaler aimed at the emergency food response for Brighton and Hove. Muir had previously run her own fresh produce wholesaler and has a deep knowledge of fresh food production across Sussex and Kent, which is quite lucrative for some farmers but a real struggle for many others. Previously unemployed, Muir has probably put over 200 hours of work into my company so far. I haven't paid her a penny because we haven't made a single one of them yet, but she trusts me to do the right thing when the money becomes available to do so. We don't have a contract, we haven't written a business plan, our physically distanced meetings take place in her driveway, if a bill needs paying I pay it without question. One quiet day soon I will make her a BFF director and a bank signatory. I trust Muir implicitly as she's my friend and she is a good person.
The Bevy Pub and Brighton Food Factory are a part of a core group of community businesses, social enterprises and charities, which are coordinating and delivering the city's emergency food response. There are days, or more accurately, some hours within a day, when big, comforting words like 'coordinating' and 'delivering' seem to be stretching it a bit, and I know none of the participants would object to me saying that, as ever changing circumstances buffeted and bumped us. Just occasionally there have been times (like when the government issued stringent new food handling regulations then promptly withdrew them 4 hours later) where we have felt like we were in shit creek without a canoe let alone a paddle, and not that sure whether to swim upstream or down. However for the most part it's been an incredibly fast moving and connected response, led by Vic Borrill and her team at Brighton and Hove Food Partnership. I dread to think how many hours the remarkable Vic has clocked up in the last three or four weeks but I've yet to encounter her with anything but a positive attitude. The organisations have largely stayed focused on their existing strengths but now in a more connected way, sharing ideas and resources, adapting to each fresh challenge, often committing our people and our money well before the means to pay for all this activity and purchasing was identified. We all started with what was needed in our communities, and just went at it, with speed beating perfection, forgiving ourselves and each other if things didn't always work out. It has been extremely stressful but never despairing, and we don't get everything right, for which we ask forgiveness from others. I'm proud that my new company and I have been a part of it.
Most of the participants in this core group of organisations were already connected in some way, part of the city's food and community ecosystem. We trust each other and I like to think that this trust will have deepened in these turbulent few weeks. What has been achieved separately and together, by these non profit organisations and by the city's many other community organisations like East Brighton Food Coop and groups and small businesses and neighbourhoods and streets is really quite extraordinary. Communities have moved much faster than the government, councils, big charities and funders, corporations and philanthropists. Without even so much as a handshake – because remember that's not allowed – people who already trusted each other because of their existing connections, agreed to move with safety, purpose, determination and speed to get help and reassurance that same day to those that needed it most. Again no contracts, no financial models, no funding streams, no command structures, no application forms, no sodding impact assessments. Don't worry, it's not quite the Wild West. Many of those necessary evils are being attended to, revised, agreed, binned when the circumstances completely change, agreed again, implemented etc etc. I'd like to take this opportunity to thank the city's environmental health office which has been hugely helpful, who moved at pace when others didn't, and were as sensitive to the social and mental health implications of the isolated and vulnerable as they were to maintaining the vital core objective of helping us all safely feed them and keep them out of hospital.
So there we are. My experience of Travelling at the Speed of Trust. When this is all done and we all re-emerge, blinking into PC World (post-covid19 not the white goods and digital tech chain), I hope it will be obvious to many more people that Trust is the strongest currency we have and one we can all use all over the world, that Need beats desire so that's where we should start everything from whether it's the planet itself or every person who lives on it, and that when the Pandemic gripped it was nurses, doctors, health workers, teachers, bus drivers, supermarket and agricultural workers who kept us safe, fed and on the move when we had to. And yes it was also those funny folk who do things because they are needed not because there is a profit to be made, or sometimes just because they love their community and their fellow humans. They are the people I trust.
You can check the websites and social media of these partners – Brighton and Hove Food Partnership, Fareshare Sussex, One Church, The Real Junk Food Project Brighton, The Bevy, Brighton Food Factory, Brighton Aldridge Community Academy, TDC and the many community organisations and communities they are supporting as best they can. Don't expect them to be updated up to the minute as everyone is pretty busy, but do donate where you can. You can trust them that the money you give will be put to good use.
Iain Chambers